Social Media Management
From strategic planning to consistent posting to analytics, we will build your social hive, expand your networks, and strengthen your communities on several platforms. So, while you focus on growing your business, your social media will be blasting in the background creating buzz for your brand.
Content Marketing
We will create and share mixed media and publish content via blogs, social media, videos, etc… using your unique voice to ensure your target audience has high-impact content to engage with.
Website Development
Our team specializes in curating fresh, clean, easy to navigate websites making it easier for your customers find what they need quick. All websites are responsive (mobile / tablet friendly) and we keep your business goals in the forefront of your next buyer's eye by keeping CTA's above the fold.
Social Media Training
Have extra time on your hands to handle your own social media but need a few crash courses and fresh ideas? We will come to you and help you get going or keep your content flying high.
Videography
Once you have the perfect website working for you, the next best thing you can do today is create a promotional video or series of short videos to use on social media. Our team uses high-end HD video equipment and all the latest and greatest in editing software to deliver original video content to your viewers.
Other Services
Logo Design
Branding / Identity
Graphic Design
Product Photography
Reputation Management
Current Clients
Clients that we currently work with everyday.
Stay In The Know.
Sign-Up For Our Informative Newsletter.
The Catalog of your Brand
The difference between having an okay Instagram profile and an awesome one boils down to one thing: strategy. You have to take the time to plan your strategy and then be able to execute it. Instagram is like a catalog, but for your brand. In a catalog pictures and text are laid out in a cohesive manner that is aesthetically appealing. On Instagram, your grid tells a story as much as the individual images.
We'd love to help you maximize the impact of your Instagram account by implementing these strategies, as we've successfully done for many other businesses. Call or email us today to find out how we can help you turn Instagram into an effective marketing platform.
Contact Us For More Info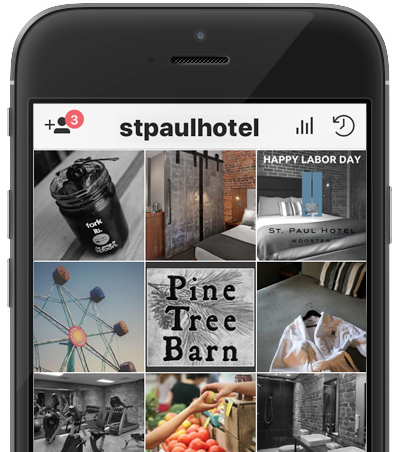 What Our Clients Are Saying
I think you've done a great job, I love seeing regular posts on the sites and it looks like we are getting a lot more traffic on those and the photos make me hungry 🙂
- Jordan Smith, Spoon Market
I'm so happy I took the leap into hiring you on, it has taken a big burden off of me and has allowed me to be involved in day to day operations.
- Mara Padden, Millersburg Brewing Company
Jessica, from JusB Media, is a delight to work with. Organized, competent and knowledgeable about her field. I am happy to consider her a colleague and my go to referral for all things social media.
- Michael Parks, Michael Parks Design
I am SO excited for my beautifully organized, clean and professional looking site! Jessica M. Wagner, you have been amazingly easy to work with and ever so patient with me and my not so technologically advanced ways. I will share this website proudly now as it gives such a professional face to my practice! Thank you!
- Morgan Enright, Creative Family Wellness
Jus B Media is the best. Jessica is personable, responsive, and well prepared. She's able to look at the whole picture and help be the voice of my business in ways even I couldn't. Now I can devote time to creating content that will better serve my customers, while staying engaged on social media without the stress. Seriously, Jus B Media is a sanity-saver!
- Aubrey Miller, Redbudsuds